CobaDGS
The centrifugal-compressor seal that reduces methane emissions to zero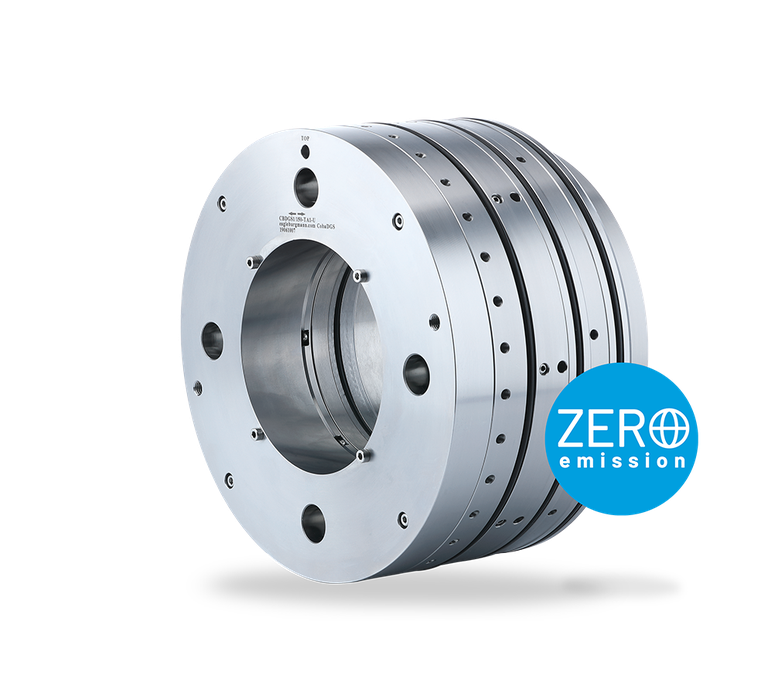 CobaDGS – A new zero-emission centrifugal-compressor mechanical seal delivering higher reliability and safety than a typical tandem dry gas seal.
The 2015 Paris Climate Change Conference was a breakthrough for international climate policy. 195 contracting parties are responding to the call for a climate-friendly global economy with the Paris agreement. It will be challenging for policymakers and businesses to achieving the agreement goals.
Most international energy companies recognize the importance of their contributions and are implementing the necessary strategies. One particular focus is on methane emitted due to leaks at sealing points or mechanical seals when extracting, transporting and distributing natural gas.
Mitigating methane emissions is an effective means for fighting global warming
The greenhouse gas methane (CH4) is the primary component of natural gas. When compared to other fossil fuels, its combustion produces much lower carbon dioxide (CO2); however, the impact it has on the atmosphere over a period of 20 years, is 84 times higher than CO2 (GWP 20 years).
CobaDGS – The solution for you to reduce methane emissions and commit to a better future, both environmentally and economically
EagleBurgmann's CobaDGS mechanical seal is the world's first turbo compressor seal that reduces harmful fugitive emissions gases to zero. A CobaDGS retrofit not only preserves the environment, it also makes economic sense.


The CobaDGS mechanical seal pays for itself
You don't have to sacrifice sustainability with added costs. The below example provides a cost/benefit calculation for a typical natural gas pipeline centrifugal compressor.

Venting a single compressor and associated piping, releases approx. 100,000 m³ of process gas/methane into the atmosphere every year. A similar amount – in our example over 128,000 m³ – is emitted from seal leakage. The total gas emitted per year and turbo compressor is around 228,000 m³, which is equivalent to approximately 12,542 metric tons of CO2.


Emissions due to leakage, flaring and venting are eliminated with a CobaDGS
Modern natural gas centrifugal pipeline compressors are equipped with gas-lubricated tandem seals, supplied with conditioned process gas as the sealing media. Leakage occurs for technical reasons, releasing methane into the environment directly or producing CO2 emissions when it is flared. The new CobaDGS mechanical seal is continuously supplied with dry, clean nitrogen instead of process gas.
Additional benefit: When a compressor is shutdown, it is usually vented to prevent dirt and moisture from entering the seal chamber. The CobaDGS seal supply is a separate clean and dry nitrogen, which ensures a continuous clean seal purge gas; eliminating the need to vent the compressor.
The energy required to generate the nitrogen is hardly significant. It equals to approx. 4.8 % of natural gas that normally leaks from them (calculated using methane as an example; 5.5 kWh compressor; 10 kWh/m³).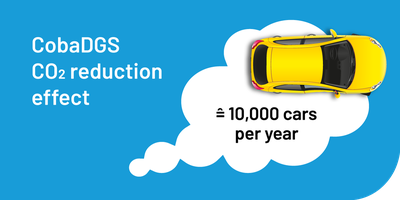 What does 12,542 metric tons of CO2 equate to: A mid-size car in Europe emits about 120 g of CO2 per km. Driving 10,000 km produces 1.2 metric tons of CO2. 10,452 cars, driving 10,000 km per year equals the emissions eliminated when a compressor is retrofitted with CobaDGS seals. Imagine the reduced emissions with a fleet of compressors.
How quickly do you benefit from a CobaDGS retrofit?
Comparing a conventional seal total cost of ownership to a CobaDGS retrofit, shows a breakeven point after approximately five years of operation. After this point your zero-emission seal upgrade has been paid for along with the eliminated environmental impact.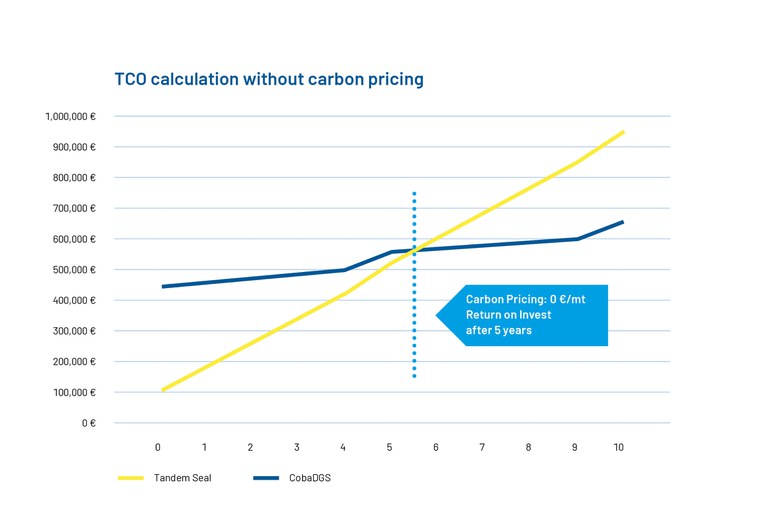 This calculation does not include CO2 incentives for reducing emissions.
However, methane mitigation strategies are under discussion, and emission allowance policies expanding to include methane and tax incentives, which are now within reach.

The following graph demonstrates how drastically these changes impact a retrofit payback, using 25 €/t CO2, the current "CO2 European Emission Allowances price" (Dec. 2020).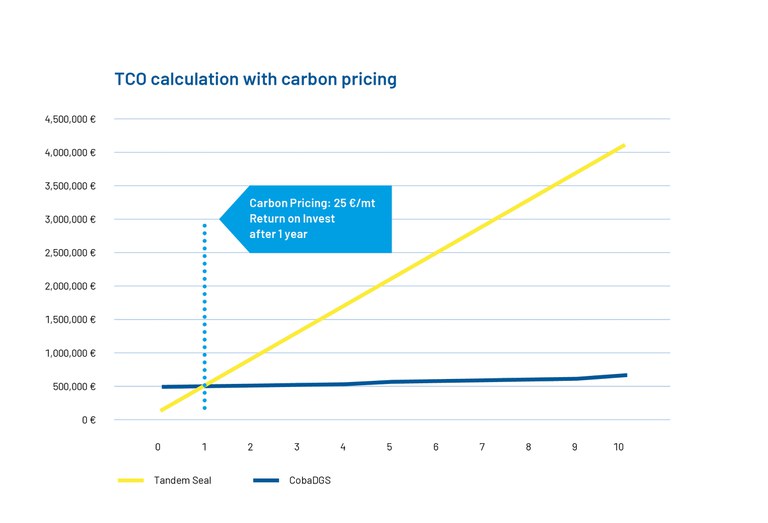 When carbon emission pricing is considered, the breakeven point for a CobaDGS retrofit is just one year.