Company
The facilities of Research and Development at EagleBurgmann
The research and development department of EagleBurgmann is globally linked and has approx. 460 employees worldwide. Besides the two research and development centers in Germany and Japan, we also operate additional acceptance test rigs at various locations worldwide.
EagleBurgmann has more than 50 testing facilities for diverse applications worldwide. In addition, we also operate dynamic acceptance test rigs for compressor seals in five Centers of Competence (CoC).
Tasks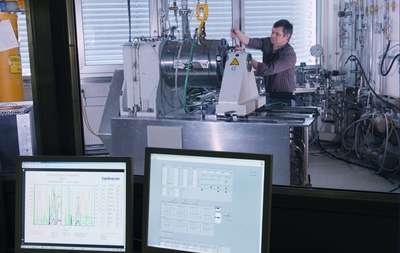 Aside from active research and development work, we regularly carry out different internal projects in Germany and Japan, e.g. tests of seal design, long-term tests on materials and material combinations, test runs for the qualification of new products, simulations with original media or measures for quality assurance.
We also perform test runs on many of our products before they are delivered. In this manner we ensure the highest quality for every product. At our test facilities, tests are conducted under conditions which simulate practical use.
On our API 682 test rigs (2 in Germany, 3 in Japan and 4 in India), mechanical seals are qualified to this international standard of the refining industry.
The ATEX directive is of great importance specifically for agitator seals, and so we certify them on special test facilities for potentially explosive applications. We also carry out acceptance tests in the presence of technical test organizations or customers.
Locations
EagleBurgmann has two large research and development centers in Germany and Japan. Moreover, a global network of test and acceptance test facilities enables us to respond flexibly to any of our customers' requirements