Welcome to EagleBurgmann
The following pages are aimed at giving you a closer look at EagleBurgmann. You will get to know a corporation dedicated with passion and responsibility to sealing technology. And that means the entire spectrum – from R&D and state-of-the-art production right through to a comprehensive range of services.

Satisfactory Business Development
"Our past business year was characterized by a strong increase in received orders during the first half year, which diminished during the second half year," says Dr. Stefan Sacré (CEO).
more...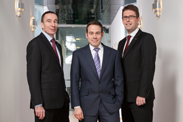 Change in EagleBurgmann General Management
Dr. Walter Steinbach retires / Michael Stomberg succeeds him as member of the general management of EagleBurgmann Germany.
more...

Efficient as standard:
eCartex
With the new eCartex, EagleBurgmann now offers a technically perfected solution: a combination of the Cartex cartridge unit, proven by decades of use, and the innovative DiamondFace coating.
more...