eMG - e for excellent
The new elastomer bellows pump seals
Often copied – never duplicated: Our MG elastomer bellows mechanical seals have been on the market for more than 40 years. With more than 60 million units sold, they have become a recognized, leading standard for pump seals. So there is no need for improvement? We did it anyway.
Numerous improved features since we only offer the best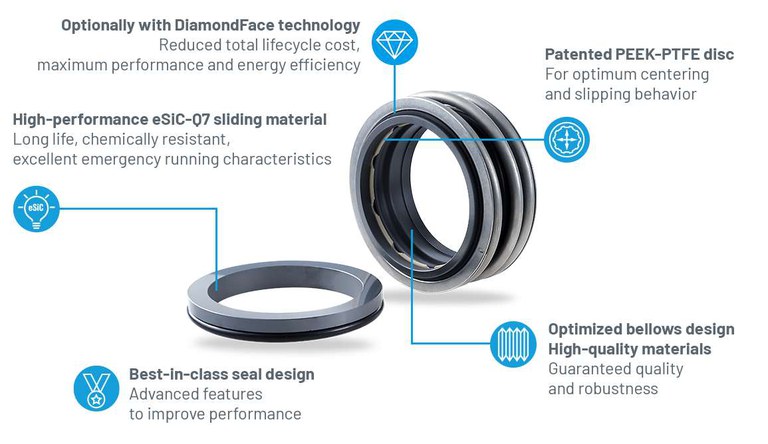 The eMG pump seal series: The new sealing standard for pumps - 100 percent compatible with the predecessor series MG, higher performing and more widely applicable.
Our eMG elastomer bellows mechanical seals again set the standard for pump seals as the next generation of the MG series. Optimized construction features, an advanced bellows design and the use of innovative high-performance materials significantly expand the spectrum of use. An additional plus: maximum reliability and safety even while operating under extreme conditions.
Strengths and highlights of the new eMG pump seals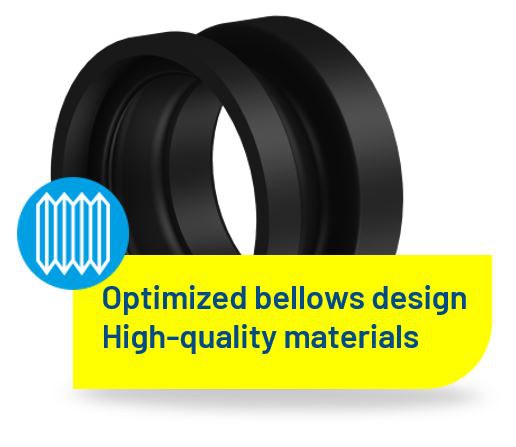 The specially developed bellows design has always been one of the secrets to the success of the MG series. We further perfected the bellows for the new eMG generation.
High-tech elastomers: Superior quality through EagleBurgmann's in-house specifications for raw materials, mixing and production processes
Bellows geometry: FEM-optimized, free of torsional stress
Special design protects the seal face during installation
Protection of shaft across the entire seal length
Reduced outer diameter of seal shoulder enables direct bellows support through retaining ring or smaller spacer rings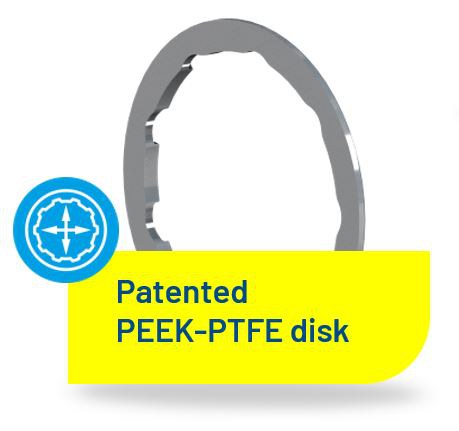 The patented PEEK-PTFE disk guarantees outstanding slipping behavior and always precise performance in every operating state.
The PEEK-PTFE disk stabilizes and centers the seal on the shaft
Optimized slipping behavior with axial shaft movements – ideal for start/stop operation
Minimized axial stick/slip effect even when the shaft is soiled
Highly resistant PEEK-PTFE compound with lowest friction coefficient of all solid materials and high mechanical strength and rigidity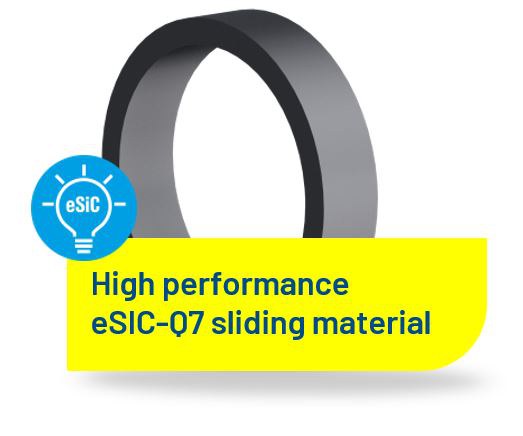 The high-performance eSiC-Q7 sliding material has a unique material structure and is standard for the slide ring and seat.
Outstanding tribological properties
Up to 50% longer operating times compared to SiC materials (e.g. Q1)
Expanded emergency operation in case of inadequate lubrication or partial dry-running
Significantly reduced friction coefficient with less energy absorption and heating in sealing gap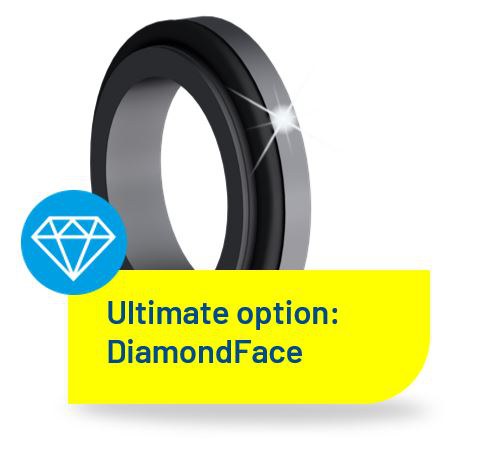 DiamondFace is a unique microcrystalline diamond technology that increases the life of sliding rings several times over. This option is recommendable in cases of insufficient lubrication, partial dry running, abrasive media or electrical corrosion.
Extreme hardness, excellent wear resistance
Exceedingly low friction coefficient
Excellent thermal conductivity
Outstanding coating adhesion
Maximum chemical resistance
Outstanding resistance to electrochemical corrosion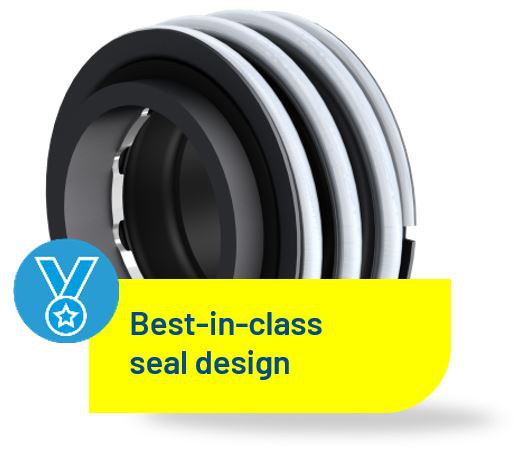 e as in excellent – and the result of decades of experience from millions of applications with a wide range of media and operating parameters. Other features that improve performance:
Approximately 50% more sliding ring overhang in comparison to the previous series, offering an effective transmission of heat to the sliding ring which makes it highly suitable for use in hot media
Torque transmitted by the bellows shoulder – no stress introduced into the bellows fold
Special bellows fold for additional vibration suppression
Excellent self-cleaning – no soiling or jamming
Fully developed series – a kit for every need
The eMG series is a comprehensive seal line with elastomer bellows seals of different installation lengths, also available as eRMG variants with a special bellows for use in hot water.
A new addition to the product line: eMG seals for particularly small seal installation spaces. Featuring the same technical properties as the eMG®1, even with 20% less overall length.
All of the seals can also be used as a double seal in a tandem or back-to-back arrangement. Customized materials and designs are also possible.

eMG – e for efficient
The standard designs and materials of the new eMG series cover an extremely broad spectrum of uses. Applications in which several types of seals had to be used can now generally be covered by a single eMG design. The benefit: Streamlined procurement processes, and simplified storage and installation, and a reduced overall capital outlay. Why wait?
Profit from the strengths of the new eMG series for pumps!

Changing to the new eMG generation:
straightforward and easy
Are you already using seals from the old MG series? The new eMG series is 100% compatible. No adaptation is required for the change. We will gladly assist you with further advice and information.